Chocolate LEGOS Make You Want to Play With Your Food
Kids Like To Eat LEGOS:
Every parent of young children has been afraid they might choke on tiny LEGOS. Now, Japanese artist Akihiro Mizuuchi has found a way to make chocolate LEGOS by pouring boiling chocolate into molds in the shape of LEGO bricks. Not only are the resulting chocolate LEGOS edible, they can actually be fitted together to make awesome edible LEGO creations.
Chocolate LEGOS Are Safe
Here are some chocolate teddy bears assembled from chocolate LEGOS. You wouldn't have to be afraid for your kids to put these chocolate LEGOS in their mouths! There are four flavors: milk chocolate, dark chocolate, strawberry chocolate, and white chocolate.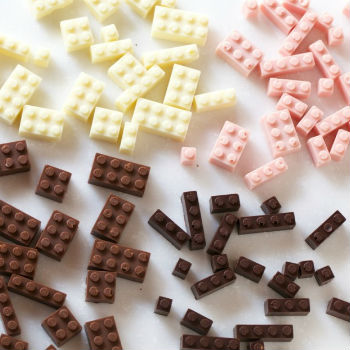 Unfortunately, these LEGOS are not available for purchase. (But don't you wish they were?)
For More Information About Chocolate LEGOS
If you would like to know more about Akihiro Mizuuchi, you can visit his website or the chocolate LEGO project he has at Behance. 
If you want to write to LEGO and ask them to work with Mr. Mizuuchi to bring these to market, you can fill out the contact form on their website.
Thank You for Sharing!